May is "Better Hearing and Speech Month," or BHSM, and throughout the month many organizations in the hearing care industry are leading activities and offering information to promote hearing health. According to the National Institute on Deafness and Other Communication Disorders (NIDCD), the theme of "Better Hearing and Speech Month" in 2015 is "Early Intervention Counts."
Most Hearing Loss and Other Communication Disorders Are Treatable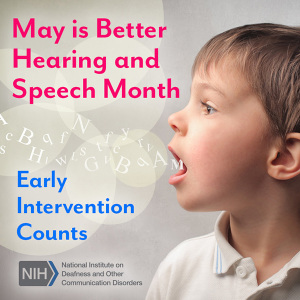 According to the NIDCD, most communication disorders are treatable, but are often overlooked. And, the longer hearing loss or related conditions are overlooked, the harder they can be to treat or manage. Early detection and early intervention of hearing loss or speech and language disorders contributes to shorter treatment periods, reduced costs, and a better quality of life, says NIDCD.
Early detection and intervention of hearing loss was the theme of Dr Christine Yoshinaga-Itano's Marion Downs Lecture at the AudiologyNOW! AAA 2015 conference, as described in an April 19, 2015 article in The Hearing Review. According to Dr Yoshinaga-Itano, thanks to many of the early intervention of programs now in place across the United States, today's children with hearing loss have the same cognitive levels as normal children.
Technology, Hearing, and Communication
For this year's Better Hearing and Speech Month, the American Speech-Language-Hearing Association (ASHA) is leading consumer outreach activities that are focused on technology and communication. ASHA reports that the organization will engage in a multifaceted public education effort on the importance of human communication and safe listening, as personal technology, such as smartphones and tablets, become increasingly popular among children.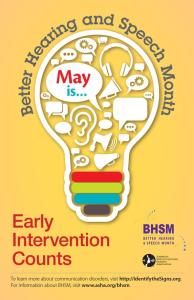 Through a variety of outreach tactics and resources, ASHA will also raise awareness about communication disorders and the critical need for early treatment by certified speech-language pathologists and audiologists.
Some of the activities ASHA has planned for May 2015 include:
Listen To Your Buds Concert—ASHA's Listen to Your Buds campaign will bring a fun and interactive Safe Listening Concert to the FBR Branch of the Boys & Girls Clubs in the nation's Capital. Children will learn how to enjoy personal audio technology safely and protect their hearing for a lifetime—a critical message, given a new warning from the World Health Organization that 1.1 billion young people are at risk for noise-induced hearing loss from leisure activities, such as misuse of personal audio technology. The event will feature musician and Parents Choice award-winner Billy Jonas.
National Survey of Parents on Child Tech Use & Media Outreach—Results of a new ASHA-commissioned survey of US parents of children ages 0–8 about their kids' use of technology and concerns about its impact on communication development, academics, behavior, and other areas will be released. A national media tour announcing the findings is scheduled for May 8. This will be supported by ongoing media outreach planned for the entire month of May—including digital news outlets, national and local op-ed placement efforts, and participation of ASHA member spokespeople in local TV and radio interviews around the country.
Speaking Up for Communication Social Campaign—A grassroots digital campaign will offer ASHA members an easy and effective way to become BHSM ambassadors. Through Speaking Up for Communication, ASHA members can sign up to receive various digital resources to easily share with their social networks. The resources will help inform the public in easy and accessible ways.
Twitter Party—A Twitter Party hosted by parenting blogger and author of Raising Digital Families For Dummies Amy Lupold Bair (@ResourcefulMom) will connect ASHA experts with a large network of parents. Planned for May 19 at noon EDT, it will serve as an opportunity to educate parents about communication disorders, as well as share tips about safe listening and maximizing opportunities for communication in the age of technology. To participate, follow the hashtag #BHSMchat during the party hour and watch @Resourcefulmom for conversational questions.
A full list of ASHA's activities for Better Hearing and Speech Month are available on the ASHA BHSM page.
10 Things You Should Know About Hearing Loss & Your Health
The Better Hearing Institute (BHI) reports that recognizing and treating hearing loss may help more than just your hearing. BHI is working to raise awareness of the link between hearing loss and other important health issues. As part of its awareness and outreach efforts, BHI is encouraging adults of all ages to take the free, quick, and confidential online Hearing Check on the BHI website. Anyone can take the online survey to determine if a comprehensive hearing test by a hearing health professional is needed as a next step.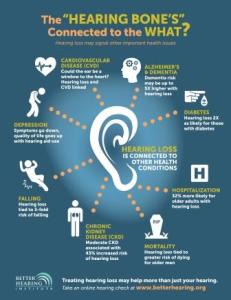 Also as part of its outreach for Better Hearing and Speech Month, BHI is providing this list of 10 things you should know about how hearing loss can affect other aspects of your health:
1. Hearing loss is tied to depression. Hearing loss has been associated with an increased risk of depression in adults of all ages.
2. Hearing loss and dementia are linked. A Johns Hopkins study of older adults found that hearing loss actually accelerates brain function decline. Some experts believe that hearing aids could potentially delay or prevent dementia.
3. Hearing loss is more common in people with diabetes. Studies show that people with diabetes are twice as likely to have hearing loss.
4. Hearing health and heart health are linked. Some experts say the inner ear is so sensitive to blood flow that abnormalities in the cardiovascular system could be noted here earlier than in other less sensitive parts of the body.
5. Fitness may help your hearing. Higher levels of physical activity have been associated with a lower risk of hearing loss.
6. Hearing loss may put you at risk of falling. Studies show that people (aged 40 to 69) with even mild hearing loss are more likely to have a history of falling.
7. Hospitalization may be more likely for those with hearing loss.
8. The risk of dying may be higher for older men with hearing loss. Men with hearing loss were found to have an increased risk of mortality, but hearing aids made a difference.
9. Common pain relievers may cause hearing loss. Regular use of aspirin, NSAIDs, or acetaminophen has been associated with an increased risk of hearing loss.
10. Kidney disease is linked to hearing loss. Research has shown moderate chronic kidney disease to be associated with an increased risk of hearing loss.
More details on these findings, along with other hearing health information, is available on the BHI website.
Tools and Resources for Hearing Health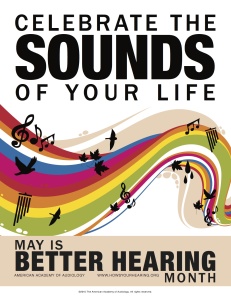 For the month of May and beyond, the American Academy of Audiology (AAA) is providing tools and resources to help professionals and consumers alike promote May Is Better Hearing Month. Some of these tools include a range of posters and promotional tools for professionals to post, downloadable graphics to incorporate into advertising for May, Web images to include as headers on websites and in e-newsletters, a selection of fun hearing health worksheets for kids and young adults, and easy-to-read fact sheets.
More information is available on AAA's "Sounds of Your Life" web page.
Additional tools and resources for hearing care professionals and others during the month of May and anytime are available on the Academy of Doctors of Audiology (ADA) website's resources page.
More information about hearing health and preventing noise-induced hearing loss is available via The Hearing Review'sApril 29th article on International Noise Awareness Day.
Sources: NIDCD, ASHA, BHI, ADA
Photo credits: © Borisovv | Dreamstime.com; NIDCD, ASHA, BHI 
– See more at: http://www.hearingreview.com/2015/04/may-better-hearing-speech-month/?ref=fr-title#sthash.yaLov3rf.dpuf